What Could Happen If someone Gains Entry Into Your WordPress Blog?
I don't want to scare you but I want you to be aware of the reasons why you should backup your WordPress blog, and even better protect it against someone getting access to the site.
Someone getting into your WordPress blog can delete anything that is there, can replace it with something else, redirect it and in fact access every single file in that WordPress site, and sometimes even other websites on the same server. That is why it's really important to keep people out and backup your site just in case something goes wrong.
Something that is very easy to do if someone gets into your WordPress blog is delete it.
There is in fact a plugin called Bulk Delete that can delete all plugins within that blog, kind of a scary thought.
But if you keep your blog backed up, then no one can really hurt you, even if you just use something once per month or once per week.
Let's say in the worst case you back up your site on a Monday, and someone gets into your site and deletes it on a Friday, at least you have only lost the past five days of work. You haven't lost the past two years, or maybe more.
What is even scarier is that someone who gets into your WordPress site might replace it with something else. Activist groups have in fact used hackers to gain entrance to poorly protected WordPress sites, and replace it with their own images and content.
What also might happen is someone might set up your site to redirect to a new site, or display ads. And even worse, if your site gets flagged as an attack site, as a problem site then other people will not be able to see it.
That is something that might happen, is if you load your WordPress site and it seems to be redirecting to some far off place on the internet, it might have been hacked and you should investigate that.
One of the scariest things about someone getting into your WordPress site is that they will probably be able to get access to all files in your site using the using the file manager plugin in WordPress. And even if you don't have this file plugin installed, they can easily install it from the WordPress dashboard. And depending on how your server is configured, they might be able to see every single website and account on that server. Kind of a scary thought.
If someone gets into your WordPress blog, it's not just about them changing content or redirecting to a new place, they now can see all your files, all your blogs, all your videos, all of your information. And all this is a reason for you to lock down WordPress securely.
Use a hard to guess password and be very careful about where you log into your blog from. And above all, backup your site, so just in case the worst happens you are still protected and you can still get your stuff back.
There are two different types of backup tools.
First, there are "comprehensive" backup services designed specifically for WordPress sites.  These require some kind of payment – either a one-time license or a small monthly fee.  The advantage of the paid backup services is that they tend to be more comprehensive, more secure, and usually offer support via email – critical if you're a non-techie.
Then there are free plugins that you install with your WordPress installation. However, if you have questions or need support you probably will find yourself searching through online forums for answers, or paying an hourly rate to a tech person to help you with the plugin.
In addition by using regular free WordPress plugins you do need to make sure you back up both the database and the themes and files , and you may need more than one plugin to achieve all this
The plugin I use is a paid plugin, but is at a really good price. Some of the paid plugins are really quite expensive or require a monthly payment.
The Backup Creator does everything you need for just $7 for use on 5 personal sites.
Take a look at this 5 minute video which explains how it works….
If you prefer to automate the backup process – by that I mean set it to back up at a regular interval you can go for the 'ultimate version' which allows you to set up how often you want to back up and emails a copy of the backup to you – that version costs $47 for an unlimited number of sites.
For a longer training about backing up and restoring your sites you can sign up for a webinar HERE
So don't take any more risks with your precious content – backup your WordPress blog so you can get your stuff back later at
 
The Backup Creator Express   OR The Backup Creator Ultimate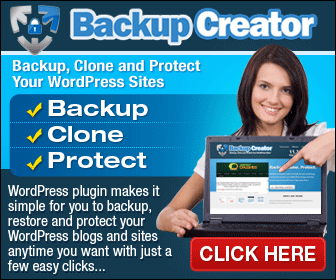 Do you backup your site regularly – or do you just hope that it will be safe – or maybe you simply don't know how to go about it?
Let me know in the comments below
The following two tabs change content below.
Sue Worthington
Discover how to get more online visibility, income and freedom, by leveraging Social Media and Online Marketing to grow your business.... By
Sue Worthington
... Connect with me on
Google +
Latest posts by Sue Worthington (see all)